Aaaaaacchhhoooo!!!!!
When someone sneezes around here it's pretty much common to say "Bless You".
My momma taught me this ... along with my southern manners. Makes for awkward situations like
this one
, but yeah...
So, living down here in the Bible belt, I never really stopped to think about the fact that Bless You is just my knee jerk reaction. I never really stop and think about exactly what I'm saying.
Do you?
Do you notice when you tell an absolute stranger bless you?
Do you mean it?
I guess what really got me thinking was when my Indian co-worker sneezed and I said Bless You. Then I wondered ... is it appropriate to say that to a guy who I know is a Hindu?
and once again ... do I really mean it?
You know even though I may not actually speak the words of blessings of Jesus, I do mean it. I do wish that God will bless my co-worker. I do wish that he will one day know the joy of Jesus Christ.
I do really wish for God to bless every individual that sneezes.
I have also been thinking about the Completing Him marriage challenge which I totally did not post on because Monday was crazy busy. This week's challenge is to pray for your husband.
I am so bad about prayers. What a horrible thing for a Christian to admit, right?
One time during college I was a leader for a Campus Fellowship group. We had some of the leaders go pray during service. So, I volunteered. Two or three of us went to the back room and prayed while the Bible study was going on (I
may
have been trying to impress a boy). I prayed ... and then I feel asleep.
At least I woke up before the service was over.
So, for help with this I consult this verse --
1 Thessalonians 5:16-18 (New International Version)
16
Be joyful always;
17
pray continually
;
18
give thanks in all circumstances, for this is God's will for you in Christ Jesus.
One of the suggestions from the praying challenge is to say a prayer for your husband every time you take your wedding ring off.
I love that idea!
I'm going to try to pray more, to live my life more in prayer. To think more about God on a daily basis. To see the bigger picture. To pray more for my husband. and to really mean it when I say "Bless you"
and I'm definitely not going to stop blessing all the sneezing people
(kinda the same way I can't stop saying yes m'am)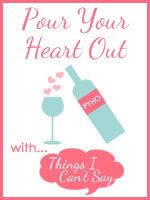 -----------------------------------------------------------------------------------------
I need guest bloggers!!!!!!
I will be away for the most part of next week at my sister - in - law's wedding. Next Wednesday is also my 3rd Anniversary so I want to have a Week of Weddings.
I would love to feature a guest poster talking about any part of your wedding that you would like to talk about from July 5th - July 11th. That's next Monday to next Sunday. (I call Wednesday)
Please let me know if you are interested!!!!!!