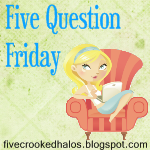 1. If you could go back to college would you change your major? Or, if you were to go to college right now...what major would you choose?
I wouldn't change my major, but I would stay that extra year and get my teacher's license. Did you know Auburn doesn't even offer my degree anymore? They cancelled it my senior year and grouped it into a larger degree. So now if I'm filling out like an electronic thing that wants my degree I have to pick a degree close to mine.
2. What do you love most about your home?
The fire place in the winter and the porch in the summer. The porch is right off of the living room so it's super easy to hang out inside and watch Leah play outside. Only bad thing is it's right next to the parking lot ... so you gotta wear pants when the blinds are open ... well at least the adults do.
3. What types of books do you like to read (if you like to read at all)?
Thriller fiction books are my favorite! I love James Patterson, Robin Cook, Steve Barry and others like that! I love the library and the bookstore. I can spend hours just reading the backs of books and then more hours trying to figure out which one to pick. I know they say 'don't judge a book by it's cover', but really my favorite way to find new authors is read the back of books with interesting covers. I grew up on Micheal Crichton, John Grisham, and Mary Higgins Clark.
4. What is the grossest thing you've ever eaten?
umm...if it looks gross, I just don't try it. I'm not a big fan of asparagus. so I took AP (advance placement) Biology my senior year. It was a really small class (like 12 people) and our teacher thought it would be fun to do an experiment proving that asparagus making you pee smell is a genetic trait. So, he made us eat luke-warm asparagus during class. ick!
(and yes ... it did make my pee smell)
5. If you HAD to be a character on a TV show, whom would you be?
Topanga from Boy Meets World
She's pretty and has the world's best love story ... even if it did get all corny at the end
Sabrina from Sabrina the Teenage Witch
I mean really ... who wouldn't want to be a witch and visit the other realm!?!
... yes .... yes .... I did grow up in the 90's
ok ... well, here are some pictures of my new haircut! not sure how good they are ... I don't take pictures very well, lol.
this was my attempt to be sexy ... hahahaha ... I left the picture pulled up on the computer and Leah said "Mommy looks so mad"
I think I failed in looking sexy