Apparently I started a blog to embarrass myself ...
It's Friday and that means its time to play along with Mama M's 5 Question Friday!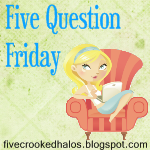 She posts 5 questions, we answer, link back and read each others! Sound like fun? Click the button to play along!
1.
Do you know how to play a musical instrument?
I play piano, trumpet and handbells ...
ok, Andrew stop reading now
I'm serious! ... you didn't leave?

I'm never going to live this down
Mama M ... you better be my friend after this ... for reals, or else I may go cry ... ignore the cracks and stops/starts, keep your mouse on the volume, and if you bring out a tuner on me I'll kick your butt
stop laughing ...
Brandi don't leave!!!!! you know you loved my song :-)
2. What is your pet peeve while driving?
oh my gosh ... what isn't?
--people who drive with their blinker on but never change lanes
--people who cut in front of you without using a blinker
--people who turn left from the middle straight lane
--people who force themselves in front of you while in a turn lane
--people who tailgate so close you can see up their nose
--and traffic
did I mention I've been known to have road rage?
3. Would you rather have a housekeeper or unlimited spa services?
A housekeeper!!!!!!!!!!!!!!!!!!!! do you know where I can get one? who will work for free?
4. Is there a song that you hear that will take you back to the moment, like a junior high or high school dance?
"I'd Die for You" Bon Jovi -- I dated a guy who thought it was 1985 in high school (for me that was 99-03). No, I don't know what I was thinking. He was/is sweet, and strange. His 'song' for me was Bon Jovi of course. He requested it to be played at Junior prom, so that song always reminds me of prom.
Except I always thought that was a strange song to dedicate to someone. Sweet, in a way, I guess. but, why would I want you to die?
5. What song best represents your life right now?
oh, this is a tough one ...
I asked Andrew ... first he said "It's a Hard Knock Life", then he sang "Jesus Loves Me".
Thanks for the help babe...
hhmmmm.... there's always a Relient K song to share!
"Be my Escape"
I'm giving up on doing this alone now
Cause I've failed and I'm ready to be shown how
He's told me the way and I'm trying to get there
And this life sentence that I'm serving
I admit that I'm every bit deserving
But the beauty of grace is that it makes life not fair