Welcome to Saturday Centus! I think I should explain this since I kinda scared someone one time (they didn't know it was a story), hehe. Saturday Centus takes place over at Jenny Matlock ... where Mr. Jenny picks a prompt each weekend, and us faithful followers write a 100 word story with it ... mine are fiction. I love this because I can let my imagination roam free. The prompt is bold!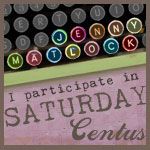 I settled into the comfortable movie theater seat with awkward 3D glasses perched on my nose, a small tub of popcorn on my lap, and a bottle of water lodged into the seat holder.
I smiled at my kids tearing up the front row with friends.
The lights darkened; I peered around the glasses to confirm the other moms relaxing into their chairs.

I leaned forward and pried the water bottle from holder.
I thought about the bottle marked as water, although the only thing water about it was the label.

Securing

the glasses to cover my eyes, I undid the top of the bottle.
For a brief moment I thought about how easy it would be to ask the mom closest to me for help, but then I took a sip.