Leah is not the greatest when it comes to putting her hair up ...

Hosted by Cecilyand Krista
but Grandma totally loves to put her hair up ...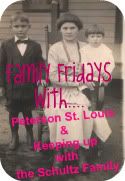 and I must admit it does look pretty cute ...
so far ... so good ...
using the whole distractions idea here
uuhhh I think we hit a snag or tangle
and now it's just downhill from here
even some advice from Aunt Allison just can't stop the tears
wanna know what advice Aunt Allison had to offer?
"Leah, sometimes it hurts to be beautiful"
---if sarcasm could come through the computer ... imagine it here now---
Thanks Allison
sigh
Wanna see more pictures from our Birmingham trip?
Click on my photography site!
here's a sneak peek -->