Oh, my happiness project is so dorky today, but oh so true. I guess I'm just a big dork...or nerd...or whatever the kids are calling it these days, lol. Editing pictures makes me happy! I love taking a raw picture and editing it into something that I think is just perfect.
I love it so much I started a brand new blog today just to showcase my pictures and my edits.
/>"
What makes you happy?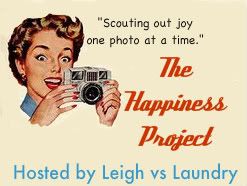 Join in with Leigh vs. Laundry and share today!