I fancy myself a feminist. You know; the kind that has a full-time job but really just wants to stay at home with her kids. Ok…well, the title doesn't read "Just Thinkin' about stuff that makes sense…" Andrew and I were arguing or bickering the other day about who knows what where one of my comebacks was something like "Well, I'm a feminist, so that's why I think that way." He laughed and rebuked my statement. "Maybe you were in college, but honey you are closer to Susie homemaker than a feminist now."
His statement really got me thinking. What do I define myself as now? What exactly is the definition of a mother? Just because you are a working mother does not mean you love your children less, and just because you have the luxury to be a stay-at-home mom does not mean you love your children more. Honestly, I don't know how to define myself.
Andrew's right though…I was more of a feminist in college. Not to the point where I didn't shave my armpits and protested, but I did see myself as a strong powerful woman. Before I dated my husband, all my other 'interests' were more of ummm appeasing guys; you know the ones who say 'sure honey' to everything you suggest. The ones who do everything exactly your way…oh the days (just kidding honey). And I think before me, Andrew dated girls who did everything he wanted without fighting back. We both have to bend our personalities a little, but I like the challenge he presents to me to be a better person.
An example of who I am is the movie "Mona Lisa Smile". Have you seen it? If not, I highly suggested you rent, TiVo, Netflix it right away. It is a must see for every woman! It came out when I was in high school. I was so excited to go see it in the theater. A movie from the 1950's portraying the early feminist…that was how I saw it in my head. But I hated it, absolutely hated it. It was not what I thought it would be. *spoiler* The girl I saw as the 'feminist' character has a chance to go be a lawyer, but chooses to stay at home to raise a family. Oh, I remember discussing it with my dad about how much I did not agree with it. I watched it again a few years later. I can now see the depth in each character. I have matured so that I can see each story line. Now I see that choosing to stay at home is no different than getting a divorce because your 'perfect' husband is cheating on you. I would have to say this movie affects my life every time I watch it, and I've watched it so many times I can quote it. It's amazing how viewpoints can change or become skewed.
I changed my last name when I married Andrew. I changed my priorities when I had Leah. In college, I was a different woman. I was a loud independent who claimed moderate political status. I wrote papers on how the Iraq war was just a cover-up to secure oil in the Middle East. Now, I am a loud conservative. I am often guilty of putting the needs and feelings of my husband and children before my own. But does that mean the feminist side of me is gone? I don't think so. I still think women can have strong roles in society. I still struggle with the Bible verses telling me to 'obey my husband' and submit to him. I still hate the fact that the Lutheran church does not allow women to be pastors or missionaries. So, what is my identity as a wife and a mother? Well, I guess I have my whole life ahead of me to try to figure that out!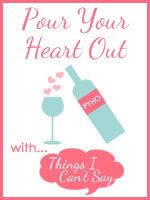 Update 4/9/10
I'm adding this post to Amy's Round Robin as well
I hope I don't scare anyone away with my insecurities, lol