The Country Music Marathon is here this weekend. It's tomorrow. The weather is supposed to be horrible, like storming, but today is beautiful!
Just back from a walk around Vanderbilt...I am holding onto my statment that every girl who attends Vandy is skinny ... and beautiful ... sigh...
I got pollen in my eye while I was walking and now its twitching. And I sneezed a few times. I'm ready for some rain!
I'm pretty positive I saw someone famous. Two rock-star looking people were standing outside their tour bus as I walked down West End. I heard the manager say "blah, blah, blah and the crowd will love that...". I wish I was better at putting faces with names so I could know who I just walked by. Kinda wanted to stop and ask the glammed up rockstar dude who he was and if I should know him, but I guess that kinda seemed wrong. There was some big concert going on on campus...maybe there's something about the bands playing somewhere...
hold on...I'm going to check it out...
You will never guess what I just found! There is a rock concert going on at Vandy this weekend?!?! What?!?! I totally missed this one. Where was the memo...am I living under a rock?
So, no I shouldn't have known them, lol! Makes me feel a bit better about never being able to recognize anyone...not like I would've known them if they were famous...
Back to what started this post...Mama M's Five Question Friday! Yeah! If you wanna play just head over her way, grab the questions, answer them and link up. Much easier than trying to recognize famous looking people on the sidewalk.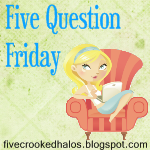 1. What was the first car you owned?
I've never
owned
a car...but I can tell you about my first car! My family went out car searching a few months after my 16th birthday. We went to a used car lot that a friend from church worked out. We test-drove a 1994 two-door cherry-apple red Honda Civic. I loved it! It was sporty, but not too sporty. And the windows were already tinted to the legal max. My dad loved it because of how it drove. And by that, I mean...all four of us were in the car. I was driving, my mom shotgun and our church friend and my dad in the backseat. You had to go up a pretty big hill to get on the interstate, and the car kinda creeped up the hill. I guess dad saw that as I wouldn't be flying around the interstates, lol! That car had a tape player and roll down windows. Great car!!!!
2. What song are you embarrassed to know the lyrics to?
Ummm...The Fresh Prince of Bel Air? I've Got Friends in Low Places? Part of Your World from The Little Mermaid? Every song on Sound of Music? I don't know...I'm not really embarrassed by the fact that I know lots of silly, crazy, kiddy, fun song lyrics!
3. Have you ever had stitches?
Twice. Both after the birth of my daughters. I have stiches from a C-section with my first and from a tear with my second.
4. What was your first job?
Ummmm...define job? Babysitting was my first paying gig, mostly with the kids around the neighbor hood. Being a camp counselor was the first job I ever paid taxes on.
5. Who is your favorite Sesame Street character?
Abby Cadabby
Check out Half Past Kissin' Time for some more randomness: