My Papa is my mom's father. He passed away when I was in middle school. Papa was married to Mema, my mom's step-mom. I have a very wonderful and special relationship with my Mema.
My mom's mother passed away when she was a child. Mema was my Great-Aunt Lucinda's hairdresser. Aunt Lucinda (a sporty feminist) is Papa's sister. She decided that Mema was meant to marry Papa, and approached her by saying something like 'My brother needs a wife, his children need a mother, and I think you are perfect." They were married in Dothan, AL in 1966 ... my mom was 7 and my Uncle Tommy was 10 (well...Mema thinks). Papa was a salesman...he tried selling insurance, moved to working with Proctor-Gamble, and ended up at a bag company based in Nashville. He was also a photographer. Mema says his favorite thing to photograph was flowers (before I came along of course). She said he could make a tiny bug on a flower look huge.

Hosted by Cecilyand Pam
When I was young, he was diagnosed with bladder cancer. I remember he lost alot of weight. I remember he couldn't remember who I was. But I always knew how much he loved me and my sister.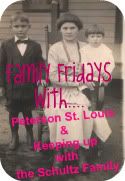 The other day, I took some pictures of Leah with Mom's camera. She later wrote this to me in an email:
"
Your pictures you took of Leah turned out really good. You have turned out to be a good photogopher and I know it is fun for you. PaPa would be proud of you :)"
That statement made my day...my week...my year. My favorite thing to photograph (other than my children) are flowers. I live in Nashville...I've always felt a pull towards this city. Thank you Papa for passing this talent on to me. I love that I'm keeping him alive in my pictures.
These flowers are dedicated to my Papa:
I am proud to be his first born grandchild. I know I was a light in his life.
I've been told the story that Papa quit smoking for me. Well, at least around me because it made me cough.
My most cherished picture of my Papa and I was taken when I was probably around 5.
He is giving me a big 'ole bear hug as we are sitting on the stairs. He looks so happy.
I carried it around in my wallet all through high school. I know exactly what box it is in at my parent's house.
I love that Papa photographed flowers, and that I picked up on that skill without even knowing I was following in his footsteps.
My mom has Papa's old cameras and lenses.
Maybe one day I will inherit them...hint, hint, wink, wink
I am proud to be my Papa's granddaughter. My Papa...War World II vet, salesman, dad and photographer