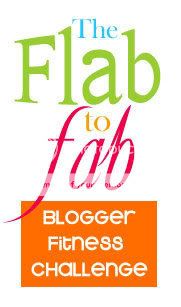 I am very excited to participate with the Flab to Fab Blogger Challenge. Ok, so I'm not an 'official' contestant...I didn't even know about it until to today. I am totally pulling for my girl Jia though. Oh, you didn't know you were my girl? Well, I'm not a stalker, I promise. I just read quietly sometimes... But yeah, she is an amazing person! When I read that you can compete even if not for prizes, I am all in. And I mean ALL in...ALL 220 pounds of me. Ick, can not wait to lose that!
My Stats:
Height: 5'3"
Weight: 220 lbs
BMI: 39.0
Pictures:
This is me in January of 2004. I think it is important for me to post pictures of what I looked like in the past so I know I can reach that goal again.
This is me in January 2010. Wow, what a difference 6 years, 2 babies and a lack of self discipline can do. Just so you know, it is really hard for me to post pictures of myself. I hate the way I look, because in my mind's eye, I am that girl from 2004 fitting into my size 8 jeans, not tiny, but just right.
Whew, I'd rather be behind the camera... Well as anyone who has tried to diet knows, they suck! Diets are hard. Obviously I let myself eat what I shouldn't have, slacked off on exercising and made bad decisions. I don't expect to be perfect in my quest to lose the weight. So, I was thinking of having a day for anyone and everyone to vent about diets, food, your coworker who eats candy everyday and is a size 4, the pastries in the breakroom that you really really wanted. What do yall think? Do you wanna play along? I'm thinking we have a "Diets Suck. Complain here" day on Thursdays. It is far enough that you have stuff to complain about from the week, plus you can see the weekend and fun nights with lots of food on the horizon. Oh, and Thursdays are the day that our break room is piled high with Panera Bread pastries and cookies and bagels and muffins and ... I will eat them, lol! Thanks for your input! and I hope you join me and Flab to Fab in becoming healthy again!