Happy Birthday to
E, Myself and I
! She has her 'golden birthday' today...26 on March 26th. For her birthday she is hosting a fun blog hop...listing 30 things to do before you turn 30! I turn 25 in less than a month, April 15th! Here is my list. Some of them are big things that will take all five years, while others are things I could complete this weekend. I really enjoyed writing all of them down, and hope yall enjoy reading them as well. Go ahead and write your own list and make Elizabeth's birth-day by linking up at her blog as well!!!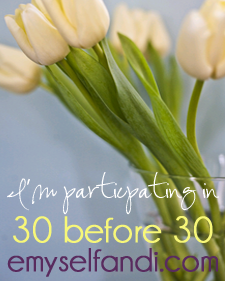 Buy or rent a home

Go see a Dave Ramsey live event
Be debt free (except for a house if we buy one)
Complete my Masters in Education
Become a teacher
Go on a cruise...without kids
Take my girls to Disney World
Paint the rooms in our apartment
Blow up and print photos I took myself and hang up around the house
Take the girls to the Tennessee Aquarium
Be successful at being a Macaroni Publisher Mom
Make a good latte at home
Throw a rocking wedding (vow-renwal) and party on our fifth anniversary (July 7, 2012)
Do something crafty and be happy about it
Loss weight to eventually weigh 150 pounds...(follow at the bottom of my blog)
Hold a monthly/weekly bible study at my house
Bake a holiday meal by myself
Have a random guy at a bar buy me a drink!
Host a family reunion … both on the Killion and the Hoit side
Go see a movie at the I-Max
Give special homemade gifts for Christmas
Meet my neighbors…and take them cookies!
Walk in a half-marathon…like the Country Music Marathon held every year right here in Nashville!
Play 18 holes of golf with my husband
Take a scrapbooking class and finish baby books for both girls
Teach piano lessons to someone
March in the Auburn Alumni Band
Go to an NFL football game, preferably a Titan's game
Go visit a winery...or 2 or 3 or 4...
Have another baby?