Good Friday Morning! I am taking a triple scoop of meme's today!
--I'm so excited for this weekend! Not only is it a long weekend, but we are going to Birmingham to spend time with my parents! yippee!
--My mom has apparently planned the world's best weekend this weekend, lol. She has scheduled a time with her hair-dresser to color and cut my hair (YAY!), and a pedicure too. She has also gotten in touch with my two best friends and apparently been communicating via email about this weekend ... oh and they aren't allowed to tell me what's going on. hmmmm....
--My parents also joined a club so we get to go swimming there this weekend! I've picked some pictures to share with you for swimming fun!
--These are part of Amy's Family Friday and Parenting by Dummies' Old School Photo Fridays!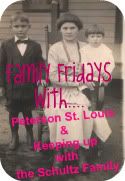 This one had a date on it ... 1988! Which would make me 3 years old. What is my mom doing handing a gun to such a small child, hehe.
If I had to guess, I would put this picture at 1990 ... me at 5, my sister at 2. Blow up pool in the driveway ... the summer doesn't get much better than that!
gotta have that floatie!
The lake!!!! oh I love the lake! I was seriously like a fish, all I wanted to do was swim in the lake. I mean you didn't even have to get out to pee ... hehe
I'll just end with me modeling my swimsuit, lol! Check out those sandals!
--I'm so excited it is summer weather! I love swimming and being outside! Last year we had Leah's b-day party at the lake. It was fun, but she hated the water! Look at this face...
August 2009
but she loved this 'splash park' that she went to with her daycare! I want to take her this year!
These pictures were taken by
Crystal
July 2009
and here's a fun picture I scrapped from these!
--so I just heard this news report on the radio: "Nashville police is looking for a criminal who was accidentally released out of jail. He was awaiting trial for a murder and is considered armed and dangerous." umm...what? 'accidentally released' wow...
--I can't wait to share my pictures from this weekend with all of you! Have wonderful memorial day weekend ... and don't forget to thank anyone you know who serves for protecting our company!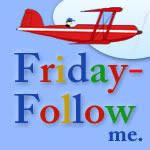 Thanks for visiting Friday Followers! Please leave a real comment ... if you have something copied and pasted ... well, just move onto the next blog :-)