I look back over my shoulder, squinting into the late afternoon sun, gawking with stunned alarm at the broad rolling muddy waters of the Mississippi.
"Why are we moving?" I think to myself.
Gazing around I take in the surroundings of the boat, the same party boat my friends and I were on last night. We were out celebrating my 21
st
birthday, and celebrate we did; although the plan had been to wake up in my bed, not on this moving boat.
I reach up and rub my throbbing temples. "How much did I drink last night," I wonder out loud.
It is then I notice the owner of the boat grinning at me. I forget about the throbbing temples as my heart begins to race in fear.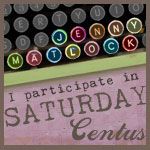 **just so you know, everything I write is fiction ... strongly influenced from years of Law & Order and John Grishman books...**