Warning ... I think this is going to be a long post ... but then I'm just starting writing it, so you never know? Oh and I'm totally going to make a list too, lol!
Linked my list here!
#1

. I've been watching Kelly's Korner meme for a while and I really want to join today!
Today is sharing names for your kids:
Leah well because we liked it and it is pretty. We wanted a name that not every little girl would have. Grace because she taught us about God's grace. We are blessed with her through the grace of God.
Audrey ... well pretty much the same as Leah, we liked it and wanted a unique name. Anne because it is my middle name, my mom's middle name and my mom's mom's first name.
Luke because we like it (see a theme going on here). Thomas because it was my Papa's name.
Trent Issac --
Just had to throw this name in...thought of it in high school, but hubby's already shot it down. Maybe part of it will grow on him? lol!
#2.

A Leah story! Last night it was time for Leah to go to bed. We went through our bedtime routine and I told her its time for bed. She looked at me and said "It's not fair!" wow...didn't think I would hear this before she was three, lol!
#3

. Have you heard the story of the boys in California who were sent home from school because they wore American flag shirts on May 5th? Because they might offend the students of Mexican heritage? Yeah,
true story
. Well I'd like to quote a talk show guy here in Nashville as my opionion...
"If you are offended by the American flag than get the hell out of my country!"
-Phil Valentine
#4

. I am still blown away by this flood to my home in Nashville...oh wait...no my home personally, I mean my home-town. We are fine (and on a big hill) This
We are Nashville
post fills me with pride. We have been here for going on two years in June. Its been weird a bit when people ask where I am from. I grew up in the same town for 18 years and stayed in the same state for college. I have lived in Alabama for 23 years ... Tennessee for 2. Through this flood I have realized the pride I really do have for this wonderful city and state. I love Alabama and will always tear up when I hear "My home's in Alabama" (yeah, yeah, call me a dork), but I love Nashville too and would be happy to grow old up here!
#5

. Did you know Taylor Swift gave $500,000 to flood relief? I'm telling everyone to go out and buy her cd, even if you just turn around and re-sell it (lol). My friend Allyson is helping Nashville from Alabama ... read about it here:
Pay it Forward: Nashville style
. I volunteered on Wednesday. I want so badly to write about it, but I just can't find the words. I stood there and cried with a woman who had lost everything ... I didn't know what to say.
#6

. Today would've been one of my best friend's 26th birthday. Happy Birthday in Heaven Matt. I love you and I'm praying hard for your mom today.
RIP my dear friend May 7, 1984 - January 16, 2010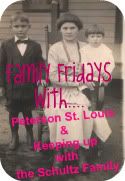 Today on Family Fridays I'm doing a flashback! Where OpryMills mall is (under water) but there used to be a theme park there. I loved it!!!!!! We went there all the time as children. It was where I rode my first loop-de-loop rollercoaster. My mom sent me some old photo albums and I found these two pictures of me on the kiddie ride at Opryland:
If you know my family is doesn't surprise you that often I rode the roller-coaster rides by myself. But it's very rare that you are the only person at all on the ride!!!!
I'm in the purple shirt and my little sister is in the pink shirt. She's holding on for dear life, and yeah ... I think the ride had stopped, lol! and no, I have no idea who the chic smiling in the back is, lol!
Thanks for reading my long post! Have a good weekend and please pray for all the families who will be returning to their homes and the volunteers helping them. (FYI ... any Nashvillians wanna volunteer, let me know...I'll be going on Saturday!)