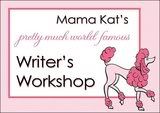 I picked this theme this week:
2.) If you could do your wedding over, how would you do it?
For me, this really isn't an 'if'. I am totally planning to do my wedding over ... ok, not really, but I am planning a Vow Renewal, hopefully in 2012.
My wedding was super small, like only close family and close friends. It was planned in a couple of weeks. It rained, so the service had to be moved inside. Oh yeah ... and I was 8 months pregnant. However, I do love the colors in my bouquet and on my cake!
This next time around though, I'm going to wear a white dress ... like one of these:
and I'm going to have bridesmaids standing with me ...
wearing these totally cute dresses ... or something like that ... my goal is to have a dress that they would want to wear later in life!
and I would have decor something like this ...
but you know the one thing I would not change?
my dear sweet husband!
My color inspiration came from here:
my florist totally rocked! It was the one thing we splurged a bit on, and they hit the inspiration right on the head!