It's time for Mama M's 5 Question Friday! Yippee! So, I think everyone who reads this should friend me and / or come back later because I'm introducing everyone to my new business venture ... CaA designs.
Wanna know what it stands for? Come back in a couple of hours ... and then you can check out Amy's Round Robin too!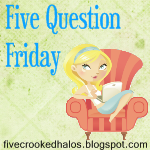 1. Take your pick...date night, girls night out, or night out alone?
ummm...well, this is a tough one... I love date night because it wonderful to spend time with Andrew without little 2 year old and 6 month old interruptions; I have new girl-friends up here so it is fun whenever I get to hang out with them (and laugh all night!), and it is always fun to have a little time alone...silence, you never know how much you miss it until it's gone...
2.
Can you touch your nose with your tongue?
no, but I was that kid who put one finger on my tongue and the other on my nose and 'claimed' to do it... I may have tried to be annoying as a kid...
3. What is your favorite flower and why?
Orchids, why...I dunno, they look pretty? I like all flowers too! Andrew got me some orange lilies for mommy's day and I love them too!
4. If you could go back in time, what advice would you give yourself?
ummm...'don't try to change a good thing', but I wouldn't change anything from back in time because then I wouldn't have what I have now...
5. If you won the lottery, what is the very first thing you would
do
?
after doing a happy dance and calling all my friends and doing another happy dance ... I would take the whole family out for dinner and not look at the price before I ordered something to eat!