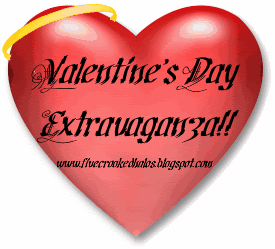 Mama M Five Question Friday time!!!! I would also like to say that I have had a wonderful time this past week with Mama M's Valentine's week! I really enjoyed writing on the props.

If you're new to this gig (where have you been all my life?!!)...welcome!! We have a few simple rules for you!
Rules: Copy and paste the following questions to your blog post, answer them, grab the blog hop code (if you'd like) and link up! I would love you forever and ever, amen...if you'd link back to me, Mama M!
If you don't have a blog (get one) share your answers in the comments here, or on any blog along the way!

Okay, let's get started...
Questions for Friday, 2/12/10: (Thanks to Jennifer, Maryanne (private blog), Heidi, Jodi, and Jessica for their question suggestions!! Wanna be linked in a future 5QF? Head on over here, to my community and offer up your best questions!)


1. What is the one thing your love does for you that you can't live without?

clean out the cat box...really I hate the smell. and he takes the trash out, which isn't an easy thing to do when you live in an apartment complex.

He also gives me hugs when I'm sad. He lets me cry on his shoulder. He feels bad that sometimes there aren't words he can say to make me feel better. He plans for our future. He sits and thinks of the best way that he can support our family. He is not selfish. hmmm...I think I strayed from the question...

I can't live without him being a Dad to our girls.

2. When did you know your love was "the one"?

I have this memory, I'm not sure exactly where it is from. I think it was getting close to the year mark of us dating. I know we were at my apartment in Auburn. I know we were sitting on the couch, watching tv, just relaxing. He turned to me and said something to the tune of 'you know, we are going to get married one day.' I'm sure I blushed, but mainly I remember that feeling you get in the pit of your stomach when you are nervous, excited, terrified and happy all at the same time. Yup, that's the day I knew.

3. Does your love have a special ringtone on your cell?

Not right at the moment, just because my SD card with the music on it is in the computer and for some reason I can not think to put it back in my phone. A while ago I put Garth Brook's "Mr. Right or Mr. Right-now" because it made me laugh.

4. What are you attracted to most in your special someone?

his goofiness and how brings out my immature side inner kid

5. Did you know when/where he/she was going to pop the big question?
Well, if you've been folowing my posts this week, you know he didn't really 'pop the question'. I knew he wanted to marry me, but I didn't know if I wanted it to be with a kid or without. It was a wonderful suprise when he brought me the necklace with his mom's diamond. I didn't think I was getting any bling, lol.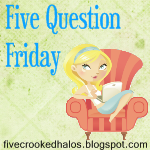 Now it's your turn! Go post your answers, link up with Mama M, and play along! Leave me a comment and I will make sure to leave you one too!