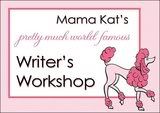 Directions: You can
learn
more about Writer's Workshop
here
….it's never to late to jump in!! Here is what you must do:
Choose a prompt that inspires you most.
Write.
I chose this prompt for this week:
5.) Write a poem to your love for Valentine's Day. :)
I've been through alot in the romantic front. I think every other guy I dated before my hubs was super romantic. They surprised me with little notes here and there. Made mixed tapes...I know right...of love songs. Wrote notes they passed me in the hallway for me to read in class. But yet I fell in love with the least romantic one of them all. Sometimes love is simpler than we make it out to be. So, I have written a simple 17 syllable haiku. As a poetry reminder, the first line has 5 syllables, middle line 7 and the last line 5. A simple way to express what can be a pretty complicated emotion.
Oh how I love you
Your eyes make me smile and sigh
Passion overcomes