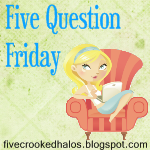 Happy Friday yall! Its time for 5 Question Friday! Wanna play? (and you know you do) Go visit
Mama M's
blog, copy and answer the questions, then link up with her blog hop and visit other people!
1. Do you sing karaoke? If so, what is your go to song?
hahahaha, no. I sang karaoke once and that was one time too many. I'm even nervous when I have to be the singer on Rock Band. Although, I'm sure with a bit of liquid courage, I could be pursuaded to sing karaoke, lol!
2. What is your favorite coffee drink?
all of them! ok, for real...anything peppermint! Peppermint Mocha, White Chocolate Peppermint Mocha with whipped cream, Peppermint Latte, even just add peppermint flavoring to brewed coffee. Ugh, now I really want a latte and all I have is this crappy brewed coffee with powerded creamer added to it. At least its free, lol!
3. If you could choose your own name, what would it be?
Oh, I'm going to be so corny on this one. I absolutely love my name! My name is Christy Anne. That is how it is on my birth certificate (no its not short for Christina). Christy means believer in Christ. I love that! Anne is my maternal grandmother's name (who passed away when my mom was young), my mom's middle name, my middle name and my second daughter's middle name.
4. Were you ever bullied?
No...I'm too sweet (big grin) or shy one of those two...
5. How often do you eat fast food?
I plead the fifth? I don't really eat fast food, but I'm really bad about stopping by and getting a snack or picking up a drink or breakfast.
Come play, comment, follow with Friday Follow, whatevah but have a wonderful weekend!