I'm playing along with Alaphabet Thursday hosted by
Jenny Matlock
! This is my [f]irst week, but it won't be my last.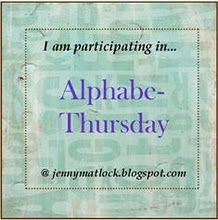 is for the Fourth of July...in pink! This is our July 4, 2009. No, I didn't dress my child up in a cute little red, white and blue outfit. I mean, she was one, and tired, and going to see fireworks was a last second desicion. So, she wore cute little pjs.
The weather was horrible. This is the day I stopped believing in meterologists, well at least in Nashville. There was a storm coming, so they moved the fireworks up an hour. We ventured downtown to watch the fireworks before the storm started. The storm came about 5 minutes into the show. Leah and I ran back to the car, but stubborn little Andrew said 'It's not too bad. I want to watch the fireworks.' The rain really came down, and he was so wet he could ring the water from his shirt. So, F the meterologists, F the rain, and F July 4, 2009. But...
I did get some pictures before the rain bottomed out!