Hi friends! I am heading down to the beautiful plains of Auburn Alabama to attend my Sister-in-law's wedding (and celebrate my anniversary). While I'm gone, I'd like to introduce you to some of my best bloggy friends as they share their stories and tips about weddings!
Today I'd like to introduce you to ... me! ok, dumb, but whatever ... humor me ... now laugh! ha ha ha ha ... oh shut up.
Today is mine and my husband's 3rd wedding anniversary. Awwwwwww..... Well, I've blogged about my wedding before, but today I'm going to share a side that I usually don't talk about.
Three years ago this morning I woke up to the calming pitter patter of rain. Well, usually calming. But not this morning. I jumped out of bed to confirm that it really was raining outside ... and it was raining hard. I ran to the computer to see the weather report ... it was to rain all day long.
Now, you may be thinking that I was concerned about the old adage 'it's bad luck if it rains on your wedding day' ... well, kinda ... but that was not the real reason. The real reason was the fact that our wedding was planned to be outside, in the beautiful courtyard of the church I grew up. We had very little decorations because the garden would be around us, and really mother nature decorates better than me.
Well, why don't we just move it into the sanctuary? The beautiful sanctuary with the pipe organ pipes rising from behind the choir seats? Well ... there's a problem there too. See, our wedding was last minute, and the church let me plan my wedding there for free (because I grew up there), but they did warn me ... Vacation Bible School was to start the day after my wedding. Which means, if I wanted to have my wedding in the sanctuary, I'd better be cool with an under the water theme.
So I did what any sane 8 months pregnant bride would do. I freaked out. On the other side of town my wonderful groom was staying with his best friend Nick. He woke up to rain too, looked at Nick, and said 'Christy is not going to be happy about this.' Oh, was that the understatement of the year!
I called him crying hysterically saying that our wedding was ruined, maybe this was the way God would tell us not to get married, I didn't want to get married today ... blah, blah, blah. Then I got in my car and my parents and I drove to the church to figure out what to do.
We were going to have the reception in the chapel; the church's original sanctuary. Pretty much our only option was to move the reception to the back of the room and get married in the front of the room. But I didn't have any decorations! Seriously, all I had was two ferns, two stands for the ferns, two bows for the stands, and a unity candle. Well ... we scoured the church, and this is what we came up with.
click on the pictures to make them bigger
and you know what ... after all the tears, the anxiety and the worrying, it all turned out! So my tip in wedding planning and in life (and one that I'm still working on ...) is don't freak out because it all eventually works out alright. If only I could live like that more often because the pictures show the REAL truth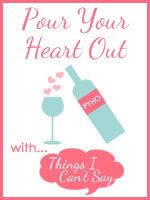 Happy third Anniversary Andrew! I can't wait to spend and celebrate a lifetime with you!
---------------------------------------------------------------------------------------
Come back tomorrow for Amy from Keeping up with the Schultz family's wedding tips and pictures!