It all started with an innocent comment in a conversation. Me, my husband, and my sister-in-law were all talking about the July 4th weekend when someone mentioned the slip n' slide still set up outside. Except that we didn't bring Leah's swimsuit out to the house with us ... well, everyone (meaning Andrew and Kaitlyn) suggested that she just go in her undies.
I was like ... ummmm ... don't think I'm cool with this ...
I was told no
and Andrew handed me a beer...
she wasn't too sure about the slide at first
for some strange reason, Leah is hesitant around water stuff ...?
not moving...
we tried cheering every time she fell down ... or slipped
but it was still a bit slow going
until ...
Daddy threw her down the slide
oh, the joy!
she LOVED it!
Leah became a slip 'n' sliding pro
which ended only when I carried her kicking and screaming inside for dinner
wanna watch a video? lucky for you ... I have one right here!
linked up at --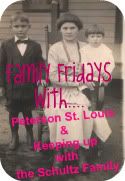 Hosted by
Cecily
and
Momma