Today, I'm playing along with something new!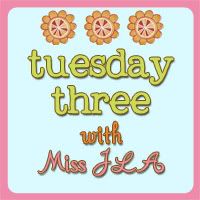 Tuesday Three is hosted by Miss JLA at Stilettos and a Fishing Pole. She wants to know --
THIS WEEK:
Share three things, that put a smile on your face & that make you happy. It CAN NOT be people. I'm trying to get to know everyone, and I know your Hubby, your better half, and your children make you MOST happiest.

Get CREATIVE!!!!
--Football!!!!!
Watching football, talking about football, preparing for games, analyzing games, NFL, college (SEC!), fantasy, preparing my draft order, spending time learning about football with my husband, impressing him or my dad with my knowledge of plays, being able to call a formation by seeing it on the field ... I LOVE it all! Football puts a smile on my face!
oh yeah, and playing flag football in college ... that was super fun! (and I learned a lot of knowledge too)
can you find me in these?
--Children's Books
I love reading, and I especially love reading to Leah (and Audrey if she would sit still). I love reading her new books! Also in middle Tennessee they have a Books from Birth program that sends the girls a new book ever month or so. I love when they come in the mail, and we have new books to read!!!!
Here are some of our favorites (at this time) --
--My Camera
Although it's not super special, and it's not super cool, and one day
one day soon?
I hope to have a super nice camera with lenses that I can change in and out and manually focus with ... but until then my camera still makes me smile!
It also helps me capture some images to treasure forever ... mainly of those people I'm not supposed to mention here (hehe)