This post is inspired by Mama Kat's Writer's Workshop prompt ...
4.) The craziest reason I ever got in trouble as a child.
Well ... this is more of one of the dumbest reasons I got in trouble as a child. and I even ripped of Mama Kat's way of telling the story ...
side note -- In our backyard we had a little playset thing. My dad built it for us. Think tree house, but instead of being on a tree it was free standing. You had to climb up a ladder to get to the platform and then it had a slide you could go down.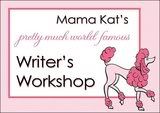 I love you Ashley!
:-)
Oh ... and I just may have an announcement coming up regarding a new MEme! I have a picture for you to preview and get excited about!!!!!!!